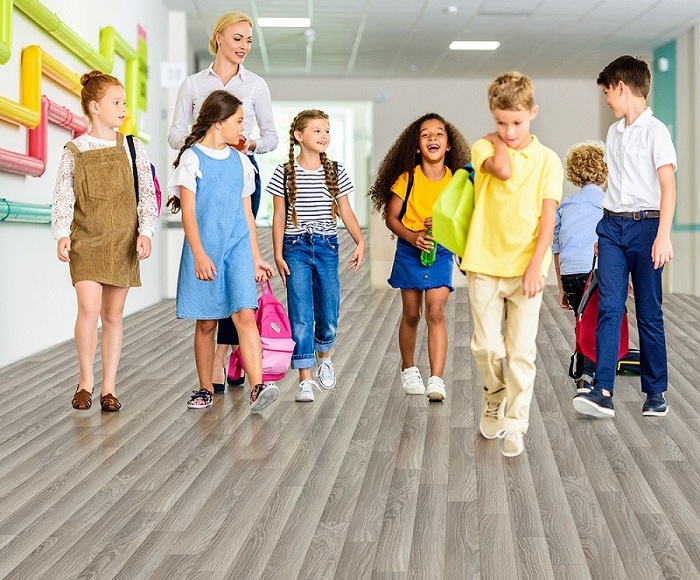 When choosing a floor covering to school, many make their choice in favor of PVC flooring. At the moment, this flooring is one of the most popular. Including in schools PVC flooring cover classes, corridors and other premises. Of course, to choose the PVC flooring in the school should be based on specific criteria:
1. High wear resistance. School – a place with high traffic, and the floor is a large mechanical load;
2. Injury safety. There are requirements for the school floor, according to which it should not be mechanical damage – cracks, cracks and so on. This increases the risk of injury (the child may stumble, in addition, in such places accumulates dust, which is difficult to remove);
3. Fire-safety. Fire safety class should be no higher than KM2. This parameter is very important and is highlighted separately. In case of fire, the evacuation of children requires several times more time, increases the risk of poisoning by combustion products, burns, etc.;
4. Anti-skid. Floors in educational institutions should not be slippery.
5. Easy to clean. A very important criterion for school premises, which are spacious enough, and clean them carefully and quickly enough.
These requirements to PVC flooring are connected with care of health of school students. Of course, our PVC flooring meets all and even more of the above requirements.
Advantages of PVC flooring Komitex Lin:
1. High wear resistance thanks to the calendered layer Strong protective Wear:
• High wear resistance. Is 2.5 longer than plastisol protective layer.
• Antibacterial. Prevents the spread of bacteria on the surface of the floor covering. The coating has a certificate of "Antibacterial".
• Fire safety. Commercial PVC flooring is not flammable, does not support combustion, and in case of fire does not emit toxic substances and does not form smoke. Has a certificate of 2 KM.
• Anti-skid. There is a Protocol anti-Skid R 10
• Easy to clean. Easy cleaning without the use of special detergents.
2. Ease and speed of installation.
3. The variety of designs of PVC flooring.
In accordance with the Federal law № 123-FZ in educational institutions, we recommend the use of:
| Types of premises | Class P/W | Requirements for floor coverings | Recommended collections |
| --- | --- | --- | --- |
| Teaching | КМ 2 | Wear resistance, durability, ease of care, resistance to chemicals | ELBRUS, Everest , SPECTRUM |
| The corridors in the school halls | КМ 2 | High wear Resistance, durability, slip resistance, minimum seams, easy care. | ELBRUS, Everest |
| School class | КМ 2 | Hygiene, resistance to chemicals, walking comfort, design, comfort | Everest, ELBRUS, SPECTRUM |