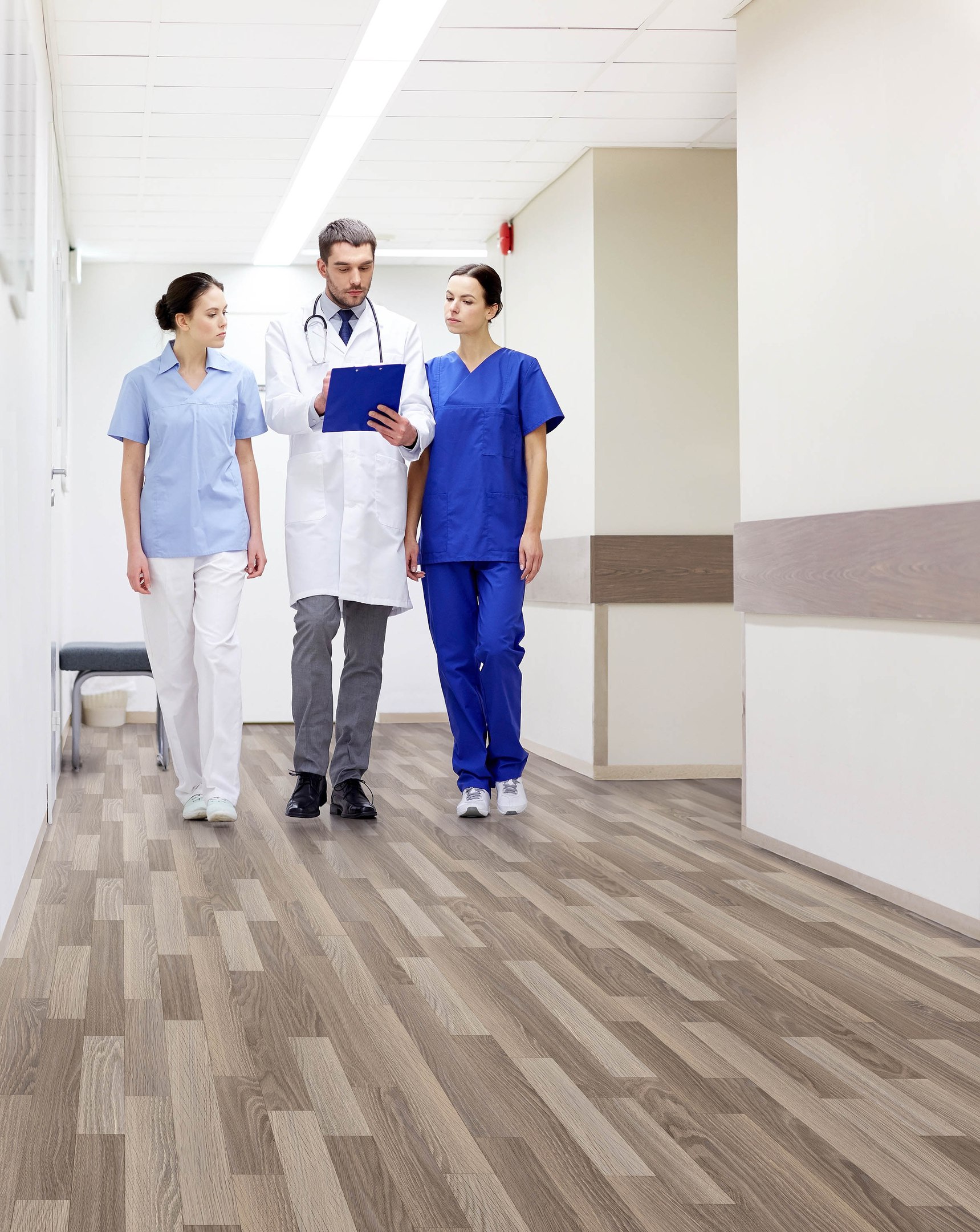 In today's world, many people are trying to take care of their health. People working in health care institutions understand this and try to create the most comfortable conditions for their patients. Floor coverings play a significant role in the interior fit out. 10-15 years ago nobody even thought about the importance of this issue. When creating comfort atmosphere for staff and patients, the question of the covering service life and its quality wasn't taken into account. Over the years, the situation has changed, such criteria as antibacterial property, durability, easy cleaning, fire safety, anti-slip properties and others have become centre-staged. Along with this, the current legislation imposes special requirements to the covering to be placed in hospitals, medical offices and clinics. The best option for all parameters, suitable for the requirements, is the use of covering like PVC flooring. The first thing to do while selecting the floor material for health care institutions is to provide the options the floor covering should correspond to:
1. Wear resistance. The service life of Komitex Lin PVC floor covering is 2.5 times longer because of extremely strong protective layer StrongWear.
2. Fire safety. Komitex Lin flooring has KM2 certificate (Spectrum, Everest, Elbrus) according to the rules and regulations for medical institutions.
3. Today medicine has modern and expensive equipment. For areas where such equipment is installed, floor covering with antistatic properties is the best choice. Our PVC flooring has these properties; it is confirmed by the relevant certificate.
4. Antibacterial. It prevents the spread of bacteria on the surface of the floor covering. The covering has a certificate proving its antibacterial properties.
5. Anti- slip - slip resistance. Komitex Lin floor covering has a Certificate "Anti-slip".
6. Easy to clean. Easy cleaning without the use of special detergents.
In accordance with the Federal Law № 123-FL, we recommend to use in health care institutions:
| Types of premises | Fire Hazard Class | Requirements for floor coverings | Featured collections |
| --- | --- | --- | --- |
| Doctor's office (Specialist) | KM2 | Wear resistance, durability, easy maintenance, resistance to chemicals | Spectrum, Everest |
| Emergency room, reception, corridors, halls | KM2 | High wear resistance, durability, slip resistance, a minimum of seams, easy maintenance. | Everest, Elbrus |
| Chamber patients premises of permanent residence | КМ2 | Hygiene, resistance to chemicals, walking comfort, design, comfort | Everest, Elbrus, Spectrum |
| Operating blocks, laboratories, X-ray rooms | КМ2 | Protection from static electricity, packing tightness, easy maintenance, durability | Elbrus, Everest |
| Physiotherapy and Sports | КМ2 | Wear resistance, maximum comfort during physical exercises, hygiene | Everest, Spectrum, Elbrus |
The requirements to fire hazard class of floor covering in hospitals and clinics are as follows:
Federal Law № 123-FL "Technical Regulations on fire safety requirements" from 22.07.2008, article 134 (requirements to construction materials)
Classification of buildings on functional fire hazard (Article 32 № 123-FL)
- F 1.1 hospital (with the constant presence of people)
- F 3.4 policlinics and clinics
1) In halls of hospitals and clinics with a capacity of more than 15 people floor coverings of KM 2 fire hazard class maximum are allowed to be installed.
2) In halls of hospitals and clinics up to 15 people floor coverings of maximum fire hazard class KM4 (except sleeping rooms, ward, operating rooms, intensive care areas) are acceptable.
3) In sleeping rooms and wards of hospitals and clinics floor coverings of maximum fire hazard class KM 2 are acceptable (cl.7, art. 134)
4) In operating rooms and intensive care areas of hospitals floor coverings of maximum fire hazard class KM 3 are acceptable (cl.11, art. 134)
5) On escape routes (corridors, lobbies) in hospitals, clinics floor coverings of no more than KM2 fire hazard class are allowed to be used, except for stairwells, lift lobbies (KM1).
Table 29 № 123-FL The application of PVC floor covering in halls
Classification of buildings.
(Article 32 № 123 - FL)
Capacity, people
Material class for floor covering
F 1.1 hospitals;
F 2.1; F 2.2;
F 3.3; F 3.5; F 4.1
F 3.4 clinics
more than 15
KM2 and higher
No more than 15
KM4
Table 28 № 123-FL The application of PVC floor covering on escape routes
Classification of buildings
(Article 32 № 123 - FL)
Number of floors
Material class for floor covering
Lobbies, stairwells, lift lobbies
Joint corridors, halls, lobbies
F1.1 hospital
F2.1; F2.2;
F3.3; F3.5; F4.1
F3.4 clinics
Regardless of floors
KM1
KM2 and higher